GOVERNOR WILLIAM BRADLEY UMSTEAD
1895-1954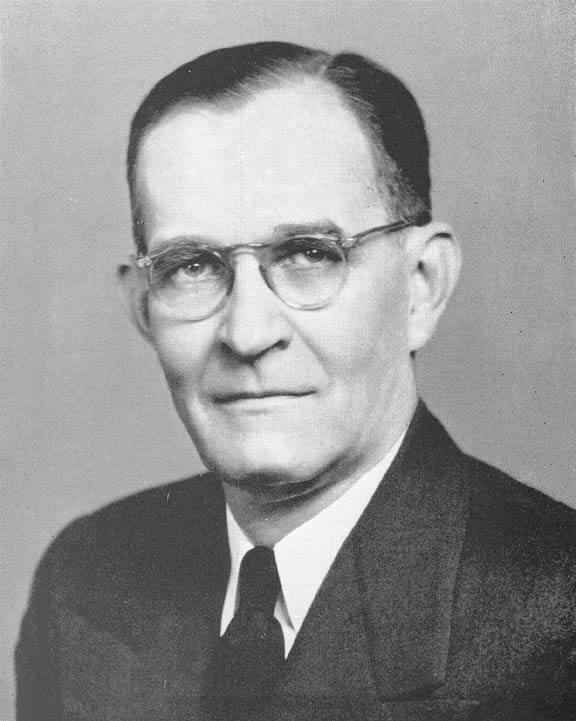 Picture from PUBLIC ADDRESSES, LETTERS, AND PAPERS OF WILLIAM BRADLEY UMSTEAD, GOVERNOR OF NORTH CAROLINA 1953-1954, David Leroy Corbitt, Editor, Division of Publications, State Department of Archives and History. Raleigh Council of State, State of North Carolina, 1957. USED WITH PERMISSION.
GOVERNOR WILLIAM BRADLEY UMSTEAD
Biography submitted by Seth Warner
WILLIAM BRADLEY UMSTEAD was born in Mangum Township, Durham
County, NC, 13 May 1895. (Durham County was formed, mostly from Orange County, in 1881). He is a descendant of John Umstat and Gwenefred/Winefred Evans, who moved from Philadelphia County, PA to Orange County, NC in the 1770s:
1. William Bradley Umstead (1895-1954)
2. John Wesley Umstead (1844-1926)
3. Squire D. Umstead (1812-1867)
4. Daniel Umsted (1781-c.1862)
5. John Umstat.
William attended the Mangum Township school through the ninth grade and then Durham (NC) High School, from which he graduated in 1912. He then entered the University of North Carolina, from which he received an A.B.with a major in history in 1916. While there he received the Mangum medal for oratory and was a member of the Varsity Debating Council. During his senior year the university enrollment was 992 (now over 24,000). In 1916-17 William taught history at the Kinston (NC) High School. He resigned his position there to enlist in the U.S. Army in May 1917 at Fort Oglethorpe, GA. After completing Officers Training School there, he was commissioned a second lieutenant on 15 August 1917.
In late August 1917 William was transferred to Camp (now Fort) Jackson, SC and assigned to the 17th Machine Gun Battalion of the newly formed 81st Division as a supply officer. Before departing for Europe in July 1918, the 81st Division adopted the wildcat as its symbol and each soldier added a wildcat patch to his uniform, against Army regulations. Authorities in Washington ordered the patches removed, but the troops insisted that the patch made it easier to recognize comrades in the field. This argument proved persuasive, as the Army changed its regulations to require soldiers in all divisions to display identifying patches.
The Wildcat Division arrived in England on 11 August 1918. A week later it relieved French troops on the Vosges Front, between the Moselle River and the Swiss border. Later it was relocated northward to the Meuse-Argonne region. On November 9 it took part in the large scale Verdun-Argonne battle against fresh German troops. After two days of bloody fighting, the offensive suddenly stopped as the Armistice was signed.
After the Armistice, William was able to visit Paris, Nice, Monte Carlo and Monaco before returning to the United States. He was discharged as a first lieutenant on 9 April 1919 at Camp (now Fort) Dix, New Jersey. For his service in France he received one gold war-service chevron.
In September 1919 William entered Trinity College Law School (later Duke University Law School) in Durham, NC. He completed the two-year program and passed the NC bar examination in 1921 and began practicing law on July 1 of that year. In 1922 he was elected prosecuting attorney at the Durham County Recorder's Court, and served in that position until 1926, when he was elected solicitor of the Tenth NC Judicial District, which consisted of Durham, Orange, Granville, Person, and Alamance counties. Re-elected in 1930, he served in that post until February 1933.
In November 1932 William, a Democrat, was elected to represent the newly formed Sixth Congressional District in the House of Representatives. In the House, he was appointed to the Committees on Elections, Merchant Marine Radio and Fisheries, and War Claims. Reelected in 1934, he was appointed to the Appropriations Committee and its subcommittees for the Departments of Agriculture and the Navy. Reelected in 1936, he was reappointed to the previous subcommittees on which he had served and was chosen chairman of the Naval Appropriations Subcommittee. In 1936 a federal grant of $140,000 was obtained through his efforts for the construction of an airport in Durham County, but public sentiment turned against it, owing to fear of the cost and of its potential as a wartime target, and consequently the bond issue for the construction was defeated. William chose not to run for reelection in November 1938 and returned to the private practice of law in Durham. In August 1944 he was elected chairman of the State Democratic Executive Committee, from which
post he resigned in November 1946.
On 18 December 1946 Governor Cherry appointed William to the U.S. Senate to replace Josiah W. Bailey, who had died December 15. In May 1948 William was defeated in the Democratic Senate primary by J. Melville Broughton by 24,000 votes. In 1950 he entered the campaign for the other NC Senate seat, but withdrew before officially announcing his candidacy following throat surgery.
On 4 November 1952 William was elected governor of North Carolina. Inaugurated on 5 January 1953, William suffered his first heart attack on 8 January 1953, and he was forced to spend most of the next four months in bed, the first month at Watts Hospital in Durham, subsequent months at the Executive Mansion in Raleigh. On 21 May 1953 William went to the Governor's office in Raleigh for the first time since his inauguration, but was able to stay only half a day. The Legislature was in session during those months of his illness, as its biennial sessions began early in February of odd-numbered years. During those months William's private secretary, Ed Rankin, William's brother Frank, a state legislator, and Frank Taylor, a former speaker of the House, who served as legislative liaison, kept William informed and relayed his wishes to the legislators. William continued the support of school construction initiated by his predecessor and political foe, Kerr Scott, and initiated programs to promote highway safety and improve mental health care. He hoped in his administration to attract new industries to the state and thus diversify its economy.
During the summer of 1954 William's health worsened, but he nevertheless personally attended meetings of the Advisory Budget Commission as it prepared recommendations for the 1955 session of the state legislature. In October he returned to Watts Hospital for a three-week stay. But in early November, he appeared noticeably weaker at a meeting of the Advisory Budget Commission, and his doctors ordered him back to Watts Hospital. He died there 7 November 1954.
William Bradley Umstead married MERLE DAVIS in Durham on 5 September 1929. Merle, the daughter of Charles Daniel and Daisy Washburn Davis, was born 11 July 1901 in Bostic, a town in Rutherford Co, NC. In 1914 she entered the Asheville (NC) Normal and Collegiate Institute, from which she received a diploma and teaching certificate in 1919. In 1919-1920 she attended Trinity College (now Duke University) in Durham. From 1920 to 1921 she was principal at the Sunshine (NC) School in Rutherford County, and from 1921 to 1923 she worked in the office of the Collector of Internal Revenue in Raleigh. From 1923 to 1925 she was again a student at Trinity College. In 1925-26 Merle was principal of Washburn School in Rutherford County, but also in 1926 she received an A.B. from Duke University with a major in English. From 1927 to 1929 Merle was a mathematics teacher and librarian at Central High School, Rutherfordton, NC. After her marriage, she and her husband made their home in Durham. They had one child.
William believed it a civic duty to join patriotic organizations. He was active in veterans' groups and in 1940 he became a member of the North Carolina chapter of the Sons of the American Revolution. The following lineage of his father was given in the Lineage Book of the Society:
1. John Wesley Umstead, b. 1844, d. 1929, married Lula Lunsford, b. 1867.
2. Squire Dewitt Umsted, b. 1806 d. 1867, married, 1830, Martha Preston Waller.
3. Daniel Umstead, b. 1766, married 1800 Mary Roberts
4. John Umstead, b.1745, d. 1796.*
John Umstead recieved [sic] a grant of land for services as a private in the Revolution.
*The first three generations are correct, but the fourth and the concluding statement should have been replaced by:
4. David Umstead, b. 1755, d. 1804, a private in the Revolution. (David and his father John did receive land grants of unclaimed land in Orange County from the State of North Carolina, but they paid half a shilling an acre for them.)
As a youth, William attended the Mount Tabor Methodist Church in Mangum Township, Durham County. While living in Durham he and Merle were members of Trinity Methodist Church, where William taught the Julian S. Carr Sunday School Class.
In July 1955 Merle was appointed to the Board of Trustees of East Carolina College (now East Carolina University) in Greenville, NC. In March 1958 she was elected to the executive committee of the NC Democratic Party, and in 1978 she was honorary chairperson of Ladies for Jesse [Helms} and a member of Democrats for Jesse.
Merle died in Durham 14 April 1988. William and Merle are buried in the Mount Tabor Church Cemetery.
Another picture of Governor Umstead can be seen at http://www.itpi.dpi.state.nc.us/governors.
See also an excerpt about the Governor and his brother NC State Senator John Umstead from "The Power of One" by Brooks Preik in Salmugundi.

See also Governor Umstead's Swearing In photo.
Material presented here IS copyrighted, however printing for non-commercial personal use is encouraged, as long as each item is printed in full and all information is fully credited to both this site and to any individual submitters. Any other use, including uploading to other websites or publishing in any other medium, in full or in part, requires WRITTEN PERMISSION PRIOR TO SUCH USE. The absence of this or other copyright notice on any individual page on this site is not to be construed as permission for use other than as stated here.