Walter H Umstead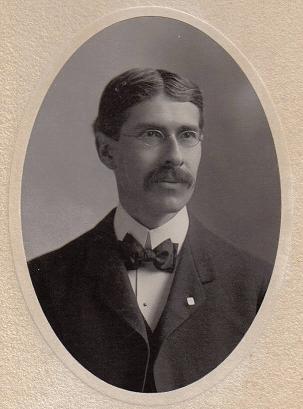 This photo was found by Ernie Mabrey of Philadelphia, who's not an UM, but who was gracious enough to give it to us.

My best guess is that this is probably Walter Horace Umstead born July 10, 1870 in Homeworth, Columbiana Co, OH, married Margaret Todd June, 1895, Philadelphia,
died May 13, 1947, Philadelphia. His parents were William Henry Umstead and Samantha Strawn. Walter Horace was a pharmacist.
If it is confirmed that he is in fact Walter Horace, I will move his picture to the Jacob UM and Hannah Hallman page, on which there is a photo of the young Walter Horace.
It is possible, however, that it's another Walter whose middle initial isn't known to us at this time.
On the back of the photo is written: Walter H. Umstead, Aldan, Del. Co., Pa. and Secretary Aldan Civic Association. However, all but the the name has been crossed out.
It looks as if this picture may have been taken around the time of his marriage, ca 1895.
See also Jacob UM and Hannah Hallman Family
Last Updated 8 August 2006