Emily Jane Veazey
1835 - 1909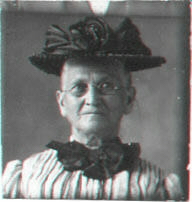 EMILY JANE (VEAZEY) MILLER
A PIONEER WOMAN
Daughter of Rev James Veazey and granddaughter of Ann Umstead Veazey, daughter of John and Gwenefred/Winefred Umstead of NC.
1835- Born in Perry Co AL, formed in 1819 after the Creek Cession.
1839- Moved to Sumter Co, AL, formed in 1832 after the Chocktaw Cession.
1850- Married James Wilson Miller in Lafayette Co MS, formed in 1836 after the Chickasw Cession.
1851- Moved to Pope Co, AR, which was still in its "Frontier" stage.
1877- Widowed with 4 minor children.
1906- Moved with her family to the "Territory of New Mexico."
1909- Died Barstow, TX, "West of the Pecos" area and part of "Wild, Wild West."
Submitted by Eleanor Mayfarth, her great-granddaughter.