Montgomery Family Pics
Stone of Francis (Dr/Rev) Marion Montgomery, born June 30, 1830, died July 11, 1870, buried Bushong Cem, a fenced pasture in Stephenville, Erath Co, Texas. He was son of Mary "Polly" Umstead and Jonathan Montgomery. He married Jerusha Adeline "Addie" Roberson. She is buried in the Salem Baptist Churchyard, Box Elder, Red River Co, Texas.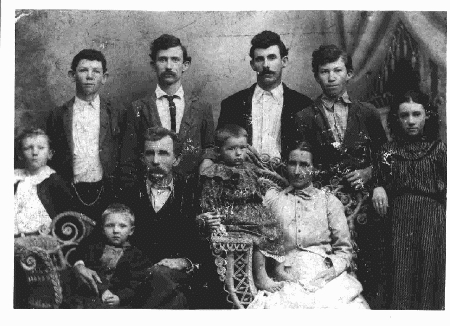 Mary Elizabeth Montgomery Batchelor (sitting, right), granddaughter of Mary "Polly" Umstead and Jonathan Montgomery and daughter of Francis Marion Montgomery and "Addie" Roberson, her husband Robert Means Batchelor (sitting, left), and their family. The two little girls in front, one of whom is dressed almost like a boy, were children of Mary's sister Zula Caledonia Montgomery. She had married Frank Jones, had the girls, and died very young and unexpectedly. Frank took the girls to her sister Mary Montgomery Batchelor's house. The reason their hair was so short was that Frank had brought them in a horrible state. Their names were Addie M. Jones and Zula C. (probably Caledonia like her mom's) Jones. Little Zula should be the youngest one, sitting on the chair arm. The others are:

Robert and Mary's children, standing, left to right:

James Ernest Batchelor
Richard Emmett Batchelor
Robert Marion Batchelor
George Montgomery Batchelor
John Floyd Batchelor
Ruth Pollyanna Batchelor
Photos and info courtesy of Peggy Batchelor Hamlett.
The family photo was taken about the time of the turn of the century, as little Zula, bottom left with Robert's arm around her, was born in 1897.