Reverend Justus Thomas Umstead
These were found at the Chester County Historical Society by Don Shaner
Faggs Manor Presbyterian Church, Londonderry Twp, Chester Co, PA.
Rev Justus T Umstead D.D. (Doctor of Divinity) Jan 22 1820 - Mar 27 1896 Pastor of Faggs Manor Church 1860 - 1872 Entered into Life
Isabella M (Wilson) Wife of Rev Justus T Umstead D.D. Dec 5 1820 - Feb 23, 1906 He Giveth His Beloved Sleep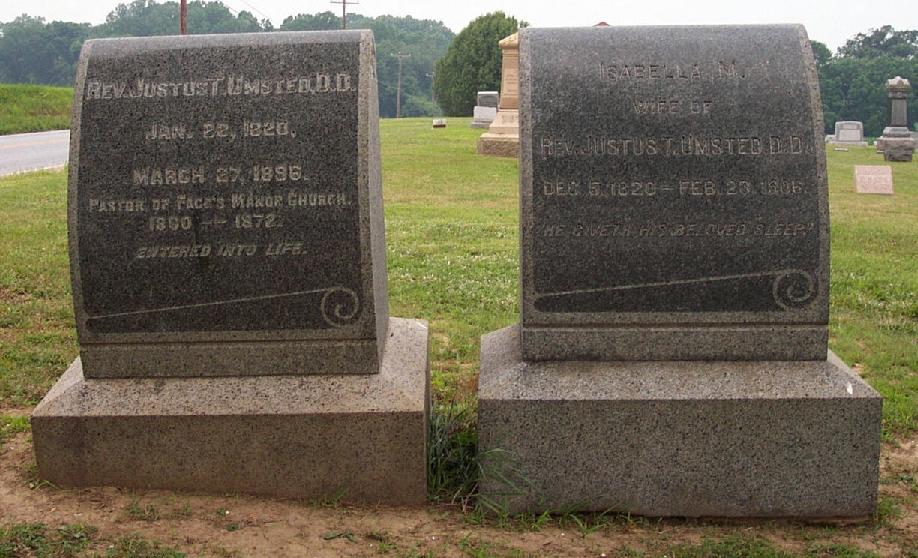 Photo courtesy of Don Shaner
The following article written on notepaper was also found at the Chester County Historical Society by Don Shaner. Don doesn't know how old it is, but it gives a synopsis of the Rev Justus Umstead's life.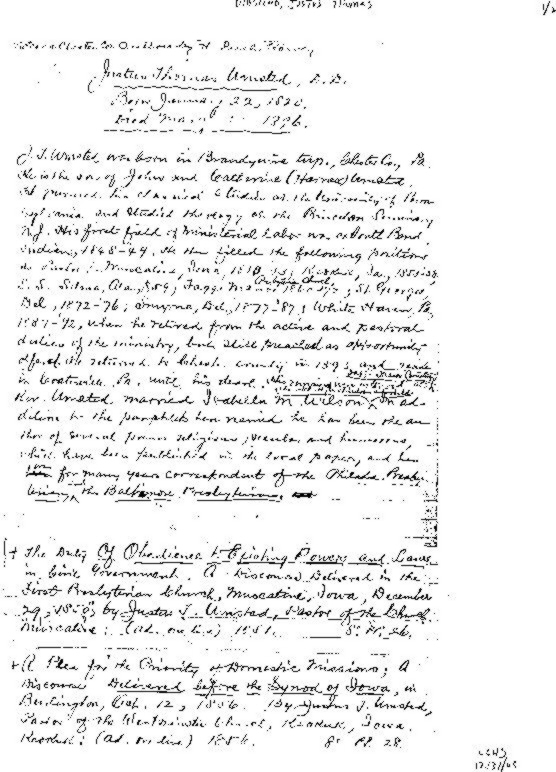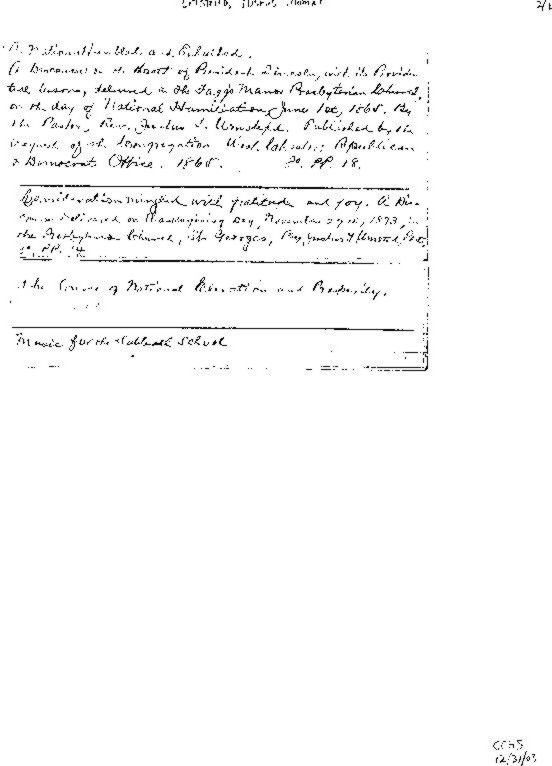 TRANSCRIPT BY DON SHANER
Notes on Chester Co. Authors by H. Rush Kervey
Justus Thomas Umsted, D.D.
Born January 22, 1820
Died March 27, 1896
J.T. Umsted was born in Brandywine twp., Chester Co., Pa. He is the son of John and Catahrine (Harner) Umsted. He pursued his classical studies at the University of Pennsylvania and studied theology at the Princeton Seminary N.J. His first field of ministerial labor was at South Bend, Indiana, 1848-49. He then filled the following positions as Pastor: Muscatine, Iowa, 1850-53; Keokuk, Ia., 1853-58; S.S. Selma, Ala., 1859; Faggs Manor Presbyterian Church 1860-72; St. Georges Del., 1872-76; Smyrna, Del., 1877-87; White Haven, PA, 1887-92, when he retired from the active and pastoral duties of the ministry, but still preached as opportunity offered. He returned to Chester county in 1893 and resides in Coatesville, Pa. until his death. His remains were interred at Fagg's Manor Cemetery. Rev. Umsted married Isabella M. Wilson who with three children survived. In addition to the pamphlets here named, he has been the author of several poems religious, secular and humorous, which have been published in the local papers, and was for many years correspondent of the Philada. Presbyterian and the Baltimore Presbyterian.
The Duty of Obedience to Existing Powers and Laws in Civic Government. A Discourse Delivered in the First Presbyterian Church, Muscatine, Iowa, December 29, 1850; by Justus T. Umsted, Pastor of the Church
Muscatine: (ad. one line) 1851 80 pp 26.
A Plea for the Priority of Domestic Missions; A Discourse Delivered before the Synod of Iowa, in Burlington, Oct. 12, 1856. By Justus T. Umsted, Pastor of the Westminster Church, Keokuk, Iowa.
Keokuk: (ad. one line) 1856 80 pp. 28
A Nation Humbled and Exhalted.
A Discourse on the death of President Lincoln, with its Providential lessons, delivered in the Fagg's Manor Presbyterian Church, on the day of National Humiliation, June 1st, 1865. By the Pastor, Rev. Justus T. Umstead. Published by the Request of the Congregation. West Chester: Republican & Democrat Office. 1865 80. pp. 18.
Consideration Mingled with gratitude and Joy. A Discourse Delivered on Thanksgiving Day, November 27th, 1873, in the Presbyterian Church, St. Georges, By Justus T Umsted, Pastor. 80. PP. 14
The Source of National Elevation and Prosperity.
80. pp. 13
Music for the Sabbatical School
[Umstead newspaper clipping file, on file at Chester County Historical Society]
All the above used with permission.