Joseph Shaner Umstead Family



Joseph Shaner Umstead, born June 6, 1862, died November 17, 1917 , married October 24, 1891,
Elizabeth Rebecca Kulp , born February 20, 1871, died January 30, 1941 . Both are buried Burial: PA Fernwood Cemetery, Royersford .


Clippings courtesy of Darlene DiCola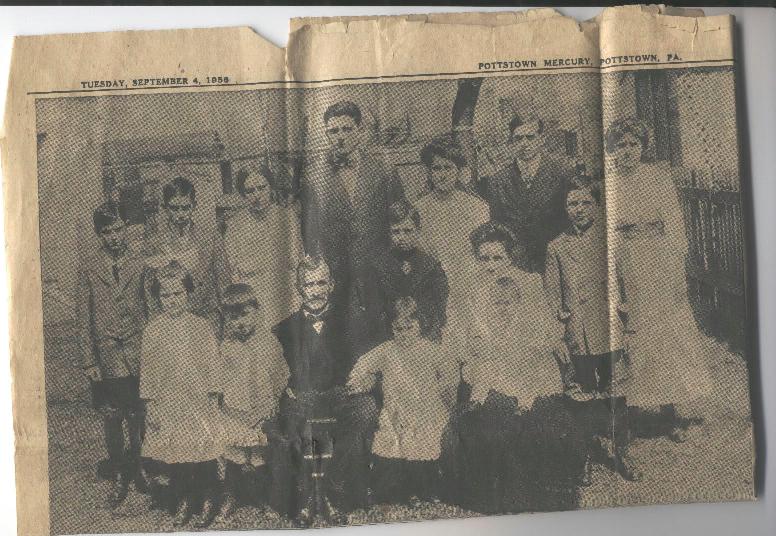 "The photo at the top (taken in 1914) shows how the Joseph S. Umstead family, of Royersford, looked 42 years ago in their quiet backyard. Shown in the bottom row, from the left are Mary, Leon, Mr. Umstead, Kathryn, Mrs. Umstead holding baby Beatrice and Charles, behind Kathryn and Joseph, next to Charles. In the back row from the left are John, Leroy, Mabel, Harry, Eva, Harvey and Ethel."

"The lower photo shows the family today (1956) - In the bottom row from the left, (Hannah) Mabel, wife of Raymond Schnell, Church Street Spring City, Mrs. Eva Pinkerton, Philadelphia; Ethel, wife of Harry Dean, Port Kennedy, Mary, wife of Walter Bender, Royersford, Kathryn, wife of Bradley Dolinger, Royersford, and Mrs. Beatrice Sommers, Philadelphia, Last Row from the left, Leroy, Spring City, John, Royersford, Harry, Spring City, Joseph C., 307 High Street, Harvey, Phoenixville, Charles, Spring City and Leon, Spring City."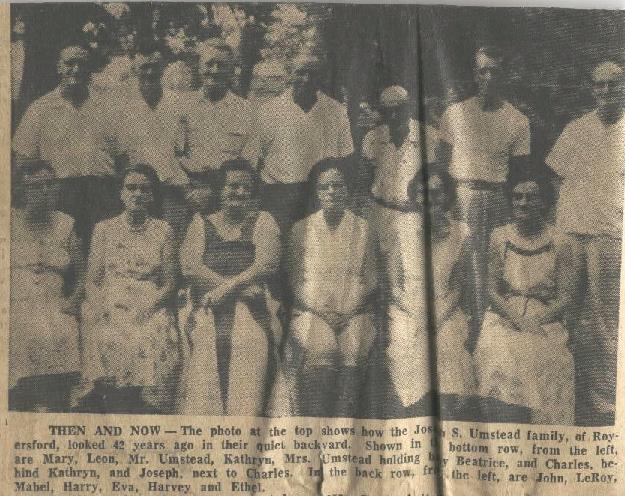 Following are excerpts from the two articles that appeared with these pictures:
"Pictures with this story show the Royersford family group of the late Joseph S and Elizabeth (Kulp) Umstead in 1914 and 1956. Umstead and his wife are sitting on the bench in front, in the top picture."
"An employe of Buckwalter Stove company, Umstead brought up his 13 children in those pre-World War I days on only his weekly earnings and food gathered from a truck patch."
"Mr. and Mrs. Harry Umstead and son, Ralph, of Clamer Avenue, left for Florida, where they will take up residence. They have been lifelong residents of Collegeville. Umstead recently sold the Collegeville Mills property after operating it for a number of years. The family will be located somewhere along the East coast of Florida, probably in the area of Fort Lauderdale."
Note: I have not sought permission to post these pictures from the newspaper, believing them to be public domain. If that's not the case, I apologize and I will remove them on request of any legal copyright holder. This is, however, simply a family site and has no potential financial gain. To the best of my knowledge, all but perhaps one child in the top picture are deceased. I hope that that one child will see this and tell us who his or her grandparents were!!!!