Jacob Horace Umstead
Born May 29, 1851, Salem, Columbiana Co, OH, died 1920, buried St Peter & Paul Cem, Fullerton, Nance Co, NE.
He is from the line of Henry, son of Johannes and Mary
Picture and biography from:
PORTRAIT AND BIOGRAPHICAL ALBUM OF THE STATE OFFICERS AND THE MEMBERS OF THE NEBRASKA LEGISLATURE TWENTY-EIGHTH SESSION 1903-1904 Edited by Daniel M Carr, Published by the Progress Publishing Company, Fremont, Nebraska, 1903.
Used with permission.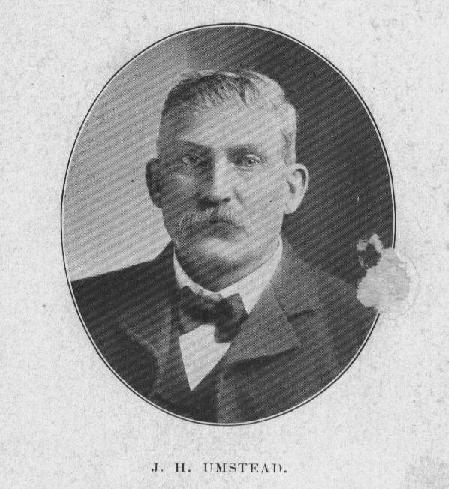 Additional biographical information from COMPENDIUM OF HISTORY, REMINISCENCES AND BIOGRAPHY OF NEBRASKA, Alden Publishing Co. (Chicago:1912), at http://www.rootsweb.com/~neresour/OLLibrary/Comp_NE/index.htm

Material presented here IS copyrighted, however printing for non-commercial personal use is encouraged, as long as each item is printed in full and all information is fully credited to both this site and to any individual submitters. Any other use, including uploading to other websites or publishing in any other medium, in full or in part, requires WRITTEN PERMISSION PRIOR TO SUCH USE. The absence of this or other copyright notice on any individual page on this site is not to be construed as permission for use other than as stated here.
last updated 10 October 2001 ch