Jacob Umstead Family of Danville, Montour Co, PA
| | |
| --- | --- |
| "Jacob Umstead & Family Esther & Harvey not here nor Martha." William Lloyd Umstead stands behind his mother per Donald Deibert. | "a party at Jacob Umsteads down by the creek" |
Based on number and names of children, I'm fairly certain that this is the family of Jacob Henry Umstead (1858-1940) and Ida Amelia Hester.
Children in the family picture: Charles Reuben born 1883, Dora May born 1886, William Lloyd born 1889, John Edgar born 1895, Simon Mearl born 1898, Sarah Florence born 1901, Harry Hester born 1903.

Children not pictured: Martha Rozilia born 1906, Esther Marion born 1909, Harvey Calvin born 1912. The family picture was apparently taken around 1903.
These photos were kindly sent to me by Mike Magliane of Chicago. Mike grew up in Danville, PA and says that his
mother probably knew the Umsteads, altho there appears to be no kinship that we can see. Thanks, Mike.
Donald Deibert, a descendant of our former orphan Jacob of Montour Co, PA, found this page and sent the picture below of William Lloyd Umstead and his wife Clara Belva Kinney. Jacob of Montour has been circumstantially connected as son of P Jacob Umstead and Nancy Ann Tyson. P Jacob was son of Jacob Umstead and Ann Adams. The reasoning is that we know P Jacob had a son Jacob, about whom we had no further information. And we know that P Jacob's kids moved west to various areas in Pennsylvania. The dates worked well with Jacob of Montour. All that said, the connection is still circumstantial, so if anyone can find documentation to prove or disprove it, that would be great.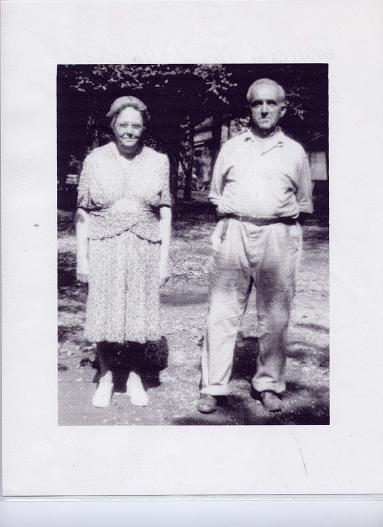 William Lloyd Umstead (1889-1963) and his wife Clara Belva Kinney
last updated 4 November 2007