Early (Earley) Methodist Church Cemetery, Wheeling Twp, Guernsey Co, Ohio
Note: Jasper Newton UM's obit showed burial at Early's Cemetery and his wife Hester's burial at Zion Cemetery. However, they share a stone at Early's. Isabelle's obit also showed burial at Zion Cemetery. I am assuming that they must be the same cemetery.
The GUERNSEY Co, OH cemetery listing at www.usgennet.org/usa/oh/county/guernsey/cemeteries shows "Earley or Zion, Junction of TR381 & TR382 - east of CR19, Wheeling Township."
Photographs courtesy of Edith S Misura and Elizabeth Periman.
| | | |
| --- | --- | --- |
| | | |
| Samuel John Umstott 1827-1887 | Samuel John and wife Harriet | Harriet Furney Umstott 1835-1908 |
| | |
| --- | --- |
| | |
| Jasper Newton Umstott 1956-1944 and Hester Keast 1856-1935 | Nellie Ann Umstott 1870-1936 and brother John Charles 1863-1953 |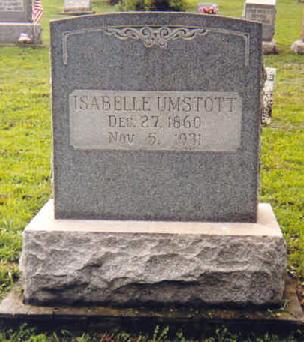 Isabelle Umstott 1860-1931